Increased environmental awareness regarding renewable alternatives and ease of availability of agricultural residue in developing countries such as India, China, South Africa, Dominican Republic, Indonesia, and Malaysia is driving the global furfural market.
Furfural Market Report, published by Allied Market Research, forecasts that the global market is expected to reach $1,434 million by 2022 from $663 million in 2015, with a CAGR of 11.6%. Furfural based on corn cob and sugarcane bagasse raw materials together accounted for half of the market share in 2015, in terms of revenue.
The economic development in emerging economies is expected to boost the demand for furfural during the forecast period; whereas, lack of technological advancements and fluctuating prices of raw materials such as corn cob, rice husk, sugarcane bagasse, and others is expected to hamper the market growth during the forecast period.
Request sample PDF brochure @ https://www.alliedmarketresearch.com/request-sample/1819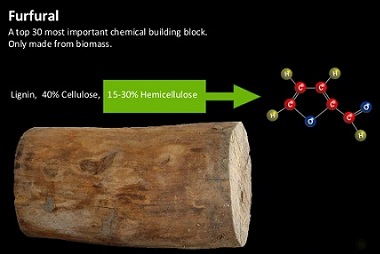 Furfuryl alcohol was the dominant application segment, which accounted for four-fifths market share in 2015 and is expected to generate highest revenue during the forecast period. Furfuryl alcohol plays a vital role in the manufacturing of various chemical products, such as foundry resins, adhesives, and wetting agents, owing to the low viscosity & high reactivity, outstanding chemical, mechanical, & thermal properties. Furfural gains increased importance across various end-user industries such as petroleum refineries, pharmaceuticals, paints & coatings, agricultural formulations, and others, which include textile, foundry metal castings, flavors & fragrance.
Patent Analysis
The registered patents related to furfural- include furfural production from biomass, producing 5-hydroxymethyl furfural, preparing 5-acetoxymethylfurfural using alkylammonium acetate, processes and apparatus for producing furfural, levulinic acid, and other sugar-derived products from biomass, methods for high-yield production of furans from biomass sugars at mild operating conditions, and others.
Segment Review
Agricultural residue constitutes the raw materials for the production of furfural. It is produced by acid hydrolysis of the pentosan found in the cellulose of corn cobs, rice husks, sugarcane bagasse, almond husks, cotton husks, oats husks, and other similar plants. The conventional processes to produce furfural include 'Quaker Oats' process and 'SAVO' process.
Furfuryl alcohol is used in containers, tanks, lines, and valves to avoid potential leakage. Moreover, owing to low viscosity, high reactivity, and excellent solubility, it is used in the production of foundry sand binders, hot-box, warm box, gas hardened processes, furan resins, and traditional-furan-no-bake-system.
Furfural solvents used in the production of agricultural formulations have revolutionized pesticides, fungicides, herbicides, and other synthetic chemical compounds to enhance the consumer safety and health. Moreover, government supplements it to promote the adoption of bio-based pesticides, fungicides, herbicides, and other chemical compounds. Furthermore, its low cost, advancement in farming practices & technology, ease of application of furfural based pesticides, fungicides, herbicides, and other such compounds are expected to drive the market in agricultural formulation segment during the forecast period
Key players profiled in the report include Arcoy Industries Pvt. Ltd., Central Romana Corporation, Ltd., Hongye Holding Group Corporation, Illovo Group, KRBL Ltd., Lenzing AG, Penn A Kem LLC, Silvateam, Tanin Sevnica d.d, and Tieling North Furfural (Group) Co. Ltd.
Key Findings of the Furfural Market Study:
The furfuryl alcohol application segment occupied the highest share in 2015, and is expected to grow at a CAGR of 11.8%, in terms of value, during the forecast period.
Sugarcane bagasse raw material based furfural is expected to grow at a high CAGR of 12.6% during the forecast period.
Petroleum Refineries industry is the leading end-user segment accounted for one-fifth of the share in 2015, followed by agricultural formulations industry in the global furfural market.
China dominated the furfural market in Asia-Pacific region in 2015, and is projected to grow at a CAGR of 12.1% during the forecast period.
U.S. is the leading market for furfural in the North American region, expected to grow at a CAGR of 11.5%, in terms of value.
Source: https://www.alliedmarketresearch.com/furfural-market