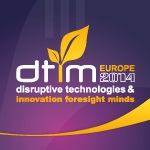 DTIM Europe 2014
Trend & Technology Foresight I Strategies und Processes for Realisation of New Technologies I Effective Innovation Management I Radical Sustaining & Disruptive Technologies: Assessment, Derivation, Initialisation
October 13 – 14, 2014 | MARITIM proArte Hotel Berlin | Germany | http://innovation-minds-europe.we-conect.com
After a very successful Disruptive Technologies & Innovation Foresight Minds, February 2014, we.CONECT is bringing together international leaders and decision makers, entrepreneurs and innovators in the field of Corporate & Technology Foresight, Innovation- & Technology Management, Business Development and R&D to the DTIM Europe 2014 conference in Berlin. It is the perfect opportunity to share experiences and discuss current challenges, brand new approaches and future trends. After becoming the leading event for Innovation Management and Disruptive Technologies in D/A/CH, we.CONECT expands the highly interactive networking event on international level.
"It is very interesting to meet so many innovators from different industries in the same place!"
Gerhard Krachler, MAGNA STEYR Engineering AG & Co. KG
Main Topics of the DTIM Europe 2014:
• Technology Foresight & Anticipation of Technological Leaps: From Trends to Markets
• Effective Organization and Integration of Technology and Innovation Management
• Trend-Based Business Model Innovation & Business Model Design
• Radical Sustaining & Disruptive Technologies: Assessment, Derivation, Initialisation
• Scenario Techniques as a Tool to Analyse Future Markets and to Improve Reasoning in Assessing Business Potentials
• Leveraging Disruptions & Innovations to Competitive Advantages
• Sustaining & Disruptive Technologies: Analysis, Screening and Reporting of Future Technology and Innovation Strategies
Featuring presentations from:
• 3M – Thomas Andrae, Director 3M New Ventures, will explain the "Impact of Platformisation" and give insights into opportunities and threats on the path to industry 4.0.
• Cambridge University – Paul-Jervis Heath, Head of Innovation and Chief Designer, will show how to stimulate and support innovation in hyper-disruptive and agile markets.
• Samsung UX Center America – Meng Chee, Vice President, will inspire the audience with the case study: "Disruption vs. Incremental Change: Challenges of Innovation Processes in a Global Enterprise."
• Google Inc. – Jeremy Abbett, Creative Evangelist, will provide valuable insights with the study "Pull to Refresh", during the Tool Track Session on scenario techniques as a tool to analyse future markets and to improve reasoning in assessing business potentials.
Review of the DTIM (D/A/CH) 2014:
• More than 2 days of high quality case studies and sessions from companies from different industries and sizes: IBM, 3M, Audi, Siemens, Airbus, Henkel, Evonik, DIEHL, Liebherr, Swarovski and many more…
• The event has received an overall rating of 1,6 and an interactivity rating of 1,5 out of 5.
• More than 150 attendees from over 120 companies actively took part in interactive sessions with the most important and challenging themes and pressuring questions from within the field.
• 7 World Cafés, 6 Challenge Your Peers Roundtables, 4 Icebreaker Sessions on the eve of the conference and more than 20 Case Studies
• 7 leading Business Partners: Sopheon GmbH, Planview GmbH, 3DSE Management Consultants GmbH, Horváth & Partner GmbH, FutureManagementGroup AG, Z_punkt GmbH and ScMI Scenario Management International AG
"Excellent networking, open discussions and new project ideas. It is a C2B – Conference to Business platform!"
Peter Kritzer, Freudenberg Sealing Technologies GmbH
Not convinced yet? Have a look at our review of the DTIM D/A/CH – February, 2014 conference, including an overview of topics, speakers, business partners, session and more: http://www.slideshare.net/weCONECT/dtim-2014-post-event-report-english
For more information on the DTIM (D/A/CH) conference, go to our Media Center and explore our official Manufacturing Technology Series Video, speaker interviews, presentations and more: http://innovation-minds2014.we-conect.com/de/preview/media-center/
Visit our Homepage of the event for more details on the DTIM Europe 2014.
We look forward to welcoming you at the DTIM Europe Conference 2014 from October 13 – 14, 2014 in Berlin!
Contact:
Nicole Steuer
Marketing Development Manager
we.CONECT Global Leaders GmbH
Gertraudenstraße 10-12, 10178 Berlin, Germany
Phone: +49 (0)30 52 10 70 3 – 81 | Fax: +49 (0)30 52 10 70 3 – 30
Email: nicole.steuer@we-conect.com
www.we-conect.com